Pour les info en Français allez sous Accueil et où dormir
The White Elephant boulder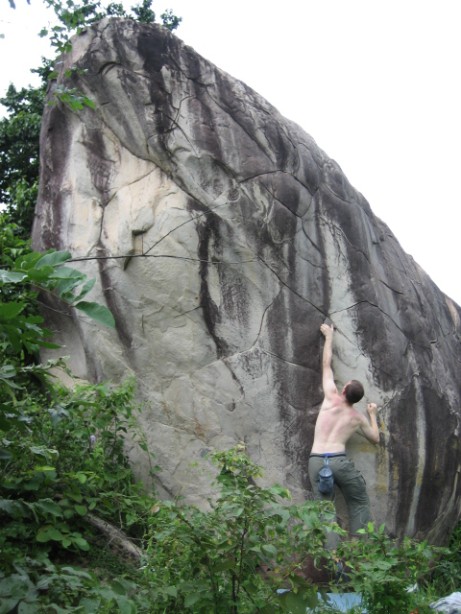 This web site is made to present the sand stone bouldering area around Sikhiu, Nakhon Ratchasima, North-East Thailand. Although a topo (thanks to James March and good time adventure http://www.gtadventures.com/) of Koh Tao island is also available here http://www.gtadventures.com/images/PDF/kt%20climbing%20guide%20version%207%2011.pdf. The sand stone boulders in Isaan (name given for the North-East Thailand Districts) is spread on a very wide region, from Pak Chong-Sikhiu area up to the Mae Khong river via Chaiyapum. The first Sector near the Wat Khao Jan Ngam was discovered in 2005 by Orathai Guignard and myself.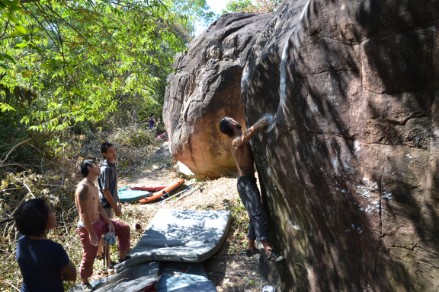 William on a new project, next to "Three Miles Island" Rainbow Warrior Sector
Later on another wider sector was discovered by Ben Grasser and Nathan Montessa on top of the Mountain called Khao Yai Thiang. And now we have discovered and started developing another new area with high balls named "Insane Issan" Since then a few dedicated climber from Bangkok and some visiting friends have tried to keep this area developing. Sikhiu has lately gain some (too) little fame among the climbers who have visited the place when James Pearson (strong Brit climber) send the hardest to date problem and called it "What was once lost" originally graded 8A (now after 2 reapeters 7C). You can read an article he wrote after visiting Sikhiu. Link below http://www.facebook.com/note.php?note_id=449944482452.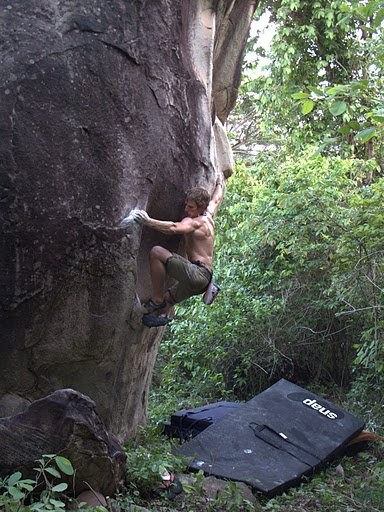 James Pearson on his FA of "What was once lost" 7C
This problem (What was once lost) had been tried by some "bleausard" but they could not make it, although they have made some first ascent that still wait to be repeated. Very much like Fontainebleau, Sikhiu is located at a reasonable driving distance from the capital city and it is what will probably keep Sikhiu developing, Secondly the rock is of very good quality, truly as good as Fontainebleau. The downsides of the place are: obviously the heat although like Krabi, Koh Tao and Chiang Mai you can always manage to climb at an enjoyable temperature by waking up early, climbing in the shade and obviously visiting during the cooler months of the year, November to February probably being the best period. Another problem we have, is due to little frequentation the bushes, and trees are growing fast that is the reason why we concentrate our efforts on developing 3 or 4 sectors.

Visting Singaporeans toping out "Chrismas Mental Mantle 6a+" a good training for real high ball
Credit Ploy Tomas
There is a facebook page http://www.facebook.com/group.php?gid=101406809399 about climbing in Central and North-East Thailand were you can ask questions, advices, look for partners, buy (or rent) materials such as crash-pad shoes, etc. The places to stay and eat are plenty check under accommodations and download the zip file, the google online map i made is a nice tool to see how the place looks. Prices for accommodation should be about 500 baths but you could also camp between the boulders, we are in the proces of making a camp but... we have to see if it is worth it, Contact me for updates guignardcamille@gmail.com. Note that climbing there is still new so in order to give a good image of the climbers it would be best to behave politely, buy stuff from the local shops and leave no garbage behind. It is absolutely essential to bring with you a brush and a machete to clean the landings. have fun.
"Mee Arai Ruplao" One of the very first project that was tried there. It has since then be climbed and is graded about 6C/7A